We officially present the program of the Cisterna Film Festival: we will return to the simplicity of a three-day screening cycle at Palazzo Caetani, which has always been the ideal setting, from 22 to 24 July. Each evening will be opened by the short films of the Focus On section, which this year is dedicated to Croatia through the collaboration of the Croatian Audiovisual Center.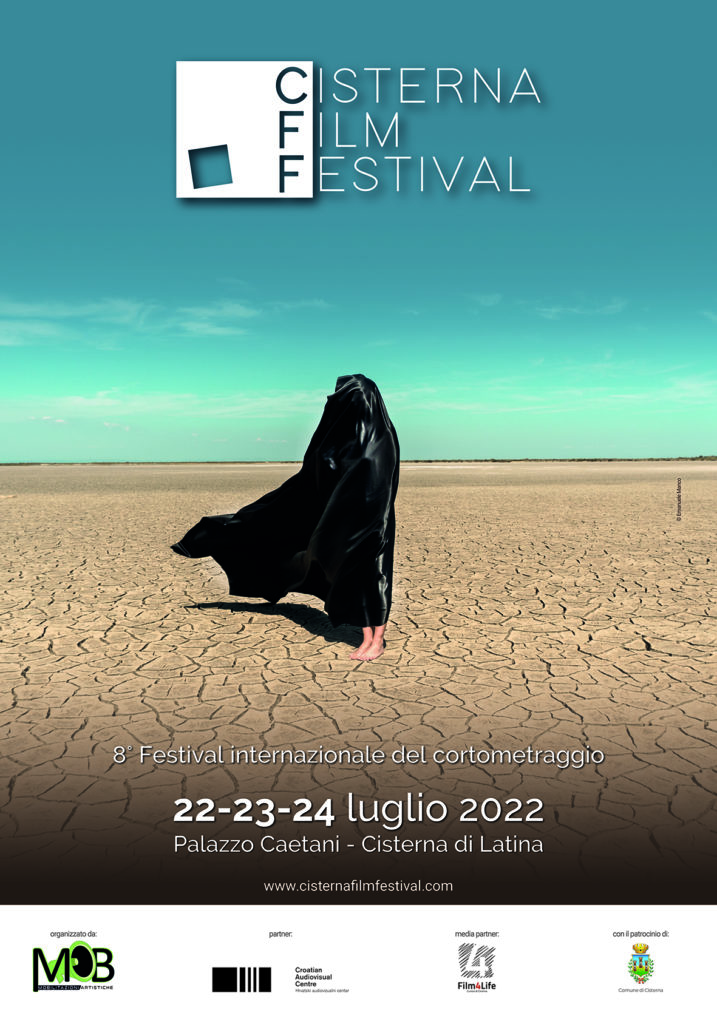 For the eighth edition of the Cisterna Film Festival we wanted a program that embodies the elements that have characterized the style of our festival. We wanted there to be high artistic quality accompanied by careful and essential design. We were looking for an apparently simple image that contained a powerful yet wide narrative potential, which is open to interpretation by the viewer. The strong bond that the photographer and video-maker Emanuele Manco has with cinema led us to this choice. The aesthetic quality of his works, the formal research, free from opulent and baroque settings and aimed at the purity and enhancement of the subject matter, brought us to this photo in which Nature, the object and humanity are in perfect harmony, thus combining so as to project onto those who look at their own cultural heritage.
– In addition to dedicating yourself to art photography projects, you follow many film festivals such as the Rome Film Festival and the Venice Film Festival; you are also a videomaker, so you have a very strong bond with cinema: what does the seventh art represent to you?
My relationship with cinema is something that I would define as essential, incorporating two aspects to which I am deeply linked. On the one hand, because it represents everything my "academic" training was and on the other because cinema has somehow become the main objective of my work. I studied cinema at university and as a tireless movie lover it was a period of my life I would call all-encompassing, in which study and passion magically merged together. After this period I started working, first as a video-maker and then as a photographer, mainly dealing with the "publicity" part concerning the promotion of upcoming films, and on sets as a still photographer. This led me to collaborating with various festivals and international events over a period of years. I had the privilege of photographing many of the mythical figures that marked my career as a film student; visual and cultural "heroes" about whom I devoured films and pages of books and then found myself with my camera in front of them. To conclude with my answer, I would use a quote from Truffaut who claims that cinema "prolongs childhood games". In my case, the impulse towards cinema represents the fulfillment of that action that you repeat when you can't help but think about beautiful things. Let's say it's my personal religion.
– The photo chosen for the eighth edition poster is part of the "La Sainte" project: how did this work come about, where were the photos taken, this one in particular, what does it mean and what did you want to convey with these shots?
This project stems from a particular reflection regarding the Marian apparitions. The idea and the suggestion in relation to this phenomenon is something that I have carried with me since I was a child, from the time when we were taught religion at school. In reality it has nothing to do with faith but rather has to do with a feeling of disorienting mysticism. Living in a principally Catholic country it was very easy to get involved in conversations of this type, at school, at home as well as on TV. However, the sensation it aroused in me, namely the thought and the image that a divine being could suddenly manifest itself in front of our eyes, was something closer to the uncanny and that left me slightly uneasy. The fact that these presumed visions always took place in ethereal, solitary places, between caves, hills and glades (Lourdes, La Salette, Fatima, Tepeyac) made the power of those images even more suggestive. Therefore, a few years ago I decided to create a photographic project starting from these reflections: I didn't want to create a project that expressed consideration on faith or religion, instead focusing on the phenomenon itself, showing the extraordinary and unexpected character of something that does not exist but that if happened would be incredible, this being the apparition. I then left for France, touring between Provence and the Camargue where those places were exactly what I was looking for for this work. The cover photo CFF chose for the program was taken in an extraordinary place, being in the delta of the Rhone, between ponds and lagoons where in the summer months the water withdraws and gives life to this lunar landscape. I was able to create the main framework of my personal Marian apparitions, of the "Saints", wrapped in veils that appear among lavender fields, salt flats and water deserts. Some photos were also taken here in the nearby area, on the Sabaudia seafront. For now, the project is currently finished but the desire to continue nourishing it is still strong.
– Your projects favor essential and minimalist settings, both for photos taken in the studio and for those outdoors. How do you choose the location and how does the idea of a set come about?
In reality, the choice is quite simple and natural, precisely because I always think in terms of essentiality. I don't like things that are particularly loaded with elements because they can be distracting, thus in my way of seeing things they are not particularly elegant. A monochromatic sheet or an empty space tend to be more than enough for me. I like an idea of steadiness and solitude in photography; the setting, in this sense, must be a corroborating partner of the idea. At the base there is always a shape, a line and a light to be caught and the choice of a place can be either the input around which to build the photo or the passive supporting actor who acts as a background.
– You notice the centrality of form and gesture within your compositions: how important is this aspect for your style?
Going back to what we said before: bodies, shapes and colors exist to fill the great void that is space. The search for this intimate, reflective solitude passes through a set of forms that go in search of their own place. For this reason, the subjects portrayed are often impersonal figures, totems with hidden faces. The individual, "framed" in the space in which immersed, abandons solitude in order to blend in harmony with the surrounding world. Hidden from sight is the way in which our intimacy is preserved, however to come out of the comfortable perimeter that we have built around ourselves we need all the strength but also all the sensitivity possible.
– Artists who influence you?
To be honest I would have an endless list: Ren Hang, an extraordinary Chinese photographer, is one of my favorite artists, along with another magnificent artist Zhong Li; in both there is a powerful sense of seduction that is expressed through extreme colors and shapes, creating an almost subversive beauty. Then there is Paolo Roversi who is an absolute master of photography with a crazy and iconic ethereal style, as well as Mustafa Sabbagh who had a significant impact on me through the use of black and his photographic journey towards identity. Identity which becomes dark like the creatures of Evelyn Bencicova, who is another visual artist I love. I get other significant influences from cinema: Douglas Sirk for his exceptional colors and critical awareness in Hollywood melodrama from the 1950s; David Lynch and Yorgos Lanthimos for their sense of mystery and estrangement; Luca Guadagnino because he is quite simply a magician in terms of expressing time and places. Lately I have also been heavily influenced by interior design. Axel Vervoodt, for example, with its essential, minimalist and primitive spaces, manages to capture an order that is simple and unique.
***
Emanuele Manco, photographer and video-maker from Cisterna di Latina, graduated in Rome in
"Forme e tecniche dello Spettacolo", at the "Sapienza" University in Rome, and then specialized
at the "Higher Institute of Photography" (ISFCI). He started collaborating with Vogue Italia,
where he was responsible for the creation of videos for the Vogue.it site, then moving on as a
filmmaker, to work on television programs for Mediaset and Rai. He also combines his work as a
video-maker with that of photographer for international cinematographic companies such as
Warner Bros Italia, Sony Pictures, Walt Disney Company, Prime Video as well as dealing with
photo and video content for previews and the launch of films in Italy. For years he has been
collaborating with the press office of the Rome Film Festival, of which he has been a
photographer since the 2016 edition, and has followed the premieres of many films at the
Venice Film Festival. In 2021 he was the official photographer of the Davide di Donatello in
Rome. In 2019 he held his first two international photography exhibitions: "Ethereal: A Daily
Poetry" Galerie Joseph Murene (Paris) and "Imagination Arles" Voies Off Festival, Galerie des
Arènes (Arles).