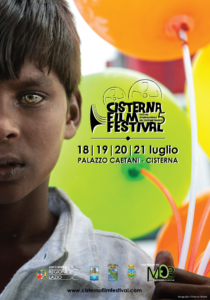 Also for 2019 the Cisterna Film Festival chooses as a picture for its manifesto a work realized by a local author. Third consecutive year for a photograph, this time it's Simone Olivieri's eye behind the lens that created this portrait full of emotion.
What is photography for you?
Photography for me is a set of things, it's not just technique, luck, or eye. Photography is the living and real representation of what I have inside and that changes with time, with days, with emotions, because I'm not always happy and not always sad. It is also the story of my vision, of how I see things and people, in short, it is the representation of the world through my eyes. 
What must a photo have to be such?
A photograph has to know how to excite, it must be able to give something to the observer otherwise it is simply an image.
How is this photo born? What is its story, where and when did you take it and who is the subject portrayed?
In October 2016 I left for India with the intention of driving more than 4000 km and discovering the entire state of Rajasthan. I knew I was entering a culture completely different from ours and I was prepared for it, but as soon as I set foot in India I realized that I had been catapulted completely to another planet. While I was walking along the road that leads from Udaipur to Jaipur I had stopped for a traffic jam (very frequent in India for the very big number of cars that travel the streets every day), and I saw this sad-looking boy approaching for some coins in exchange for a coloured balloon. I was immediately struck by his eyes. It was all a contradiction: the colour and brightness of his eyes in opposition to his "opaque" mood, the colour of his balloons and that of his clothes. I took the photo before opening the window to give him what he expected.
You are well-known as a fashion photographer, but in recent years you have dedicated yourself to reportage photography: what are the subjects you are looking for?
More than the subjects I look for the emotions, I look for the stories in the faces of those who lived, those who have travelled, suffered, struggled and those who are still doing it, because to excite, you need to be excited, to be carried away by the events that fascinate you and that more and more often they leave something inside.
The photo chosen for the 2019 poster is linked to Asia, which will be the centre of the Cisterna Film Festival this year. You have travelled a lot in this continent: what did those days leave you and how did you experience relationships with Asians?
Personally, I am very attracted to Asian cultures, I am curious perhaps because even Asian landscapes are very close to what I love seeing, but I want to focus on India, where I took this shot. India is a country that fascinates and leaves a profound astonishment. India assaults you, blocks you, takes all your senses. India creates so many conflicting emotions for which you cannot remain indifferent. India is an immense country that lives on enormous contradictions. Despite being one of the main engines of the world economy, it has a huge rift that divides the technological and innovative world from the rural and ancient one, linked to popular traditions, myths and legends, which often condition and overwhelm its society. At least, one third of the Indian population lives below the poverty line, a slice of people increasingly ignored and considered a scourge of society. For better or for worse, India was able to involve me: its great spirituality developed in its many religions, its vary colours that seem born to divert attention from the "darkness". Its culture and its population have been able to give me joy and sadness, allowing me to further expand my cultural and emotional background. The genuine hospitality of the population and the continuous parties have involved and moved me: it is certainly a country to admire, listen to and savour with respect and attention.
Besides being a photographer, you are also a director of photography and you have already signed several projects, including a feature film, Dead Country. Tell us about this experience and what cinema represents for you?
I am very keen on cinema also because basically it is all about moving photography. I think that being a cinematographer is the aspiration of all photographers or at least of those with particular ambitions. Managing the light in a film is extremely complex but exciting at the same time, because it is something dynamic and creative. I had the chance to experiment it several times in my artistic career, both in independent productions and in Rai productions. The experience with the Dead Countrywas ambitious and stimulating. It was about making a Hollywood-style action-film with zero budget. I love challenges, so I accepted and I decided to collaborate in the production and as a director of photography. We walked around the streets of Rome with very little equipment, and despite everything we had excellent results.